Many of us who hardly cook and never bake when we were back home were forced by circumstances to learn how to cook when we came here, and I don't mean just normal home cooked food but serious Singapore hawker food, tarts and kueh and what have you. We craved for Singapore food so much that recipes of local delight are treated as 'treasures'. Back home, I think I won't even bother to take a second look at these books and when ?? was busy making all the tarts and kueh for chinese new year, I would rather be doing something else. Such kueh and tarts can be found from shops just a stone throw from every houses, and I guess alot of us would rather buy then to spend time making them ourselves.
But when we are here, we have no choice. You either spent nights craving and dreaming about your favourite food or just take up the challenge and JUST DO IT! So my latest endeavour was to make Png Kueh which I had been craving for quite a while now. Did not have the Png Kueh mould so I used the Ang Ku Kueh mould instead to make them. Brought over to Daddy's office the other day while they had Lo Hei and the feedback I gained so far was quite good. I was quite pleased myself for a 1st attempt. Then again, beggars ain't choosers…maybe we are just too desperate, who knows, if we are back in Singapore, the response might turn out very different!
p/s: Remember to show these pictures to ??!!! maybe she will want the recipe too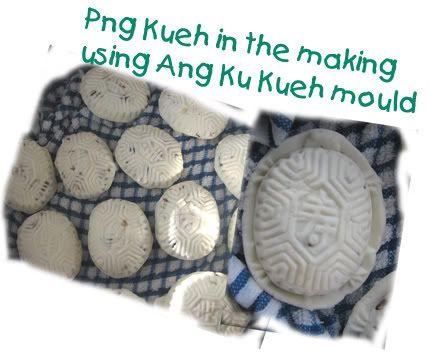 Here's Auntie Jessica's Teochew Png Kueh recipe

Filling
60g raw peanuts, boiled till soft
1-1/4 cup glutinous rice (sweet rice)
420ml water
1/4 tsp salt
10 tbsp cooking oil
100g dried shrimps, soaked & drained
10 pcs dried mushrooms, soaked, drained & diced
1/2 cup shallots, thinly sliced
1 tbsp light soya sauce
1 tsp ground white pepper
1/2 tsp salt
Method:
1. Wash and soak rice in water for about 1 hr. Cook with water and salt.
2. Fry shallots in oil till golden brown. Remove shallots and leave 2tbsp of oil. Remove the rest.
3. Add dried shrimps and stir-fry till fragrant; Add mushrooms, peanuts, seasoning and fried shallots, combine well.
4. Add mixture into the cooked rice and mix well. Leave rice uncovered to cool.
Dough
300 g rice flour
75 g tapioca flour
40 g wheat starch (tang mien fen)
520 ml boiling water
4 tbsp cooking oil
Method:
1. Sift flours into a mixing bowl; Add boiling water and oil; Form a pliable dough.
2. Divide dough into small portions. Keep dough covered with a damp cloth.
3. Roll each portion into ball and roll out into a circle. Wrap some filling in the centre; fold up the side and put dough into the mould; Press the dough with your palm and finger to ensure the mould is filled. Remove kueh from mould.
4. Steam for 10 – 12 minutes.
5. Brush with fried shallot oil.