YES, It is Mal's first day of school. After weeks of hunting, we finally found a school for him which both of us like. We decided to put him in the school for several reasons.
1. I intend to take up a french course, which requires me to be in school everyday from 9 to 12.
2. To let Mal follow a routine which I have problem enforcing when he is at home
3. To let him socialize with more kids
4. To let him get use to being away from Mummy and be more independent.
5. He is ready to attend school.
On the way to school this morning, he asked again whether we are going to the school with a big swimming pool. There is pool within the school compound.
Mal was supposed to start school 3rd Oct. Unfortunately he fell sick on Children's day which was the 1st Oct. It started off with fever followed by really bad cough and slightly runny nose. The cough was accompanied with lots of phlegm and he puked a few times for the last few days, which is good as it helps to purge out the phlegm. We never bring him to the doctor and I realized that unknowingly, we had grown accustomed to the medical care in US, that is, to self medicate. Bought cough medication over the counter and gave him some fever reliever. Thankfully he is recovering now thus was able to start school this week.
Mal was a bit shy when he first arrived and wanted me to be with him when Mrs Manu, the teacher in charge of his class, introduced him to the class. The class started the day with some outdoor activity where the teacher brought the kids to the playground. I explained to Mal that I need to talk to the principal and to settle some registration stuff and urged him to join the class by himself. He did so and with that, his day at the childcare began.
I was so proud of him as there was no whining, no crying and at the end of the day when I fetched him from school, he told me it was fun and wanted to come back the next day. I realised he meant it when I heard him telling our neighbour that he needs to go school the next day instead of going over to their house and play. After dinner, he asked when he needs to sleep in order to wake up in time for school the next day. He is that eager to go school!
His achievements for the first day in school are….finish his full bottle of water within 1/2 day and finish a bowl of porridge all by himself! We know he can drink more water than he usually drinks at home, we know he is capable of finishing his food on his own, but most of the time we have a hard time convincing him to do so when he is at home. Maybe we are too soft on him, maybe we never discipline him enough. I realized it is not easy to teach a child everything at home or maybe it is just us. For now, I am happy to let the school discipline him for a change, to let his peers influence him to do things he never want to do when he is at home.
Me : 'Why do you like school?'
Mal : 'because I can play with my friends'
Me : 'Didn't Mummy play with you when you are at home?'
Mal : 'Yes but not all the time'
Me : 'Didn't Daddy play with you?'
Mal : 'Yes but sometimes he needs to work'
he was told to bring a mug and toothbrush to school. We got him a Pooh bear toothbrush and an old mug redecorated with some of his favourite Mickey Mouse stickers.
it was however too big, thus the next day we changed to a smaller one, again with his favourite stickers.
Mal trying to get a cab. Daddy had accidentally brought the car keys with him to work while the car was still parked at our house! We only realised it when we were about to leave home. We had no choice but to get a cab as we were running very late.
Everybody knows that it is tough getting a cab during the morning peak hours. We waited for like 20 minutes and Mal is seen here, tired from all the standing.
MY CLASSMATES!
Mal was put into a class where the kids are a year older than him. Most of them were born in 2003.
back from the playground
this little girl from his class was eager to pose for the camera. Mal calls her the girl with 'Noodle' hair 🙂
Mal playing Unifix with one of his classmates while the rest were having shower after coming back from the playground.

/>
Mal with the big big swimming pool in his school compound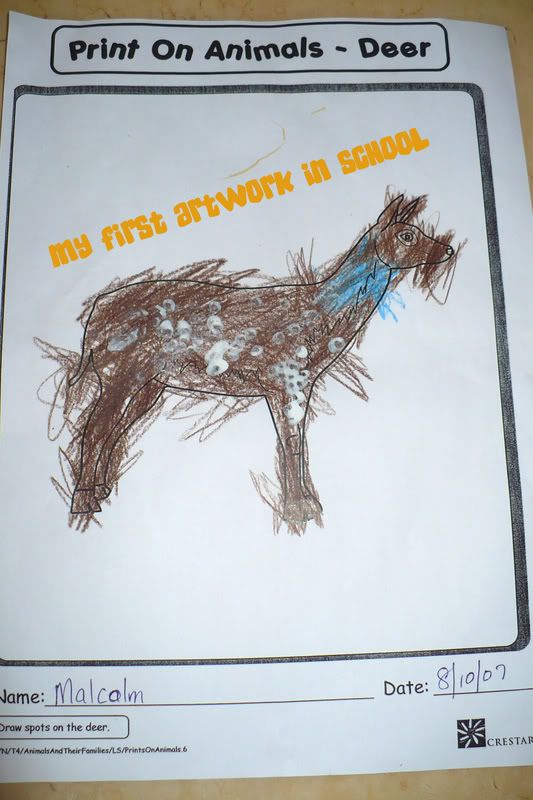 Mal first piece of artwork in school. A deer with white spot. He painted on the white spot using cotton bud